117 Series Pressure Switch (H117 Models 565-567 )
117 Series Pressure Switch (H117 Models 565-567 )
Approved for Division 2, Zone 2 hazardous and corrosive atmospheres, and with optional Zone 0 intrinsic safety compliance, the 117 Series can be used to measure vacuum, pressure, differential pressure, or temperature in a variety of applications.

H117 - One SPDT output; epoxy coated enclosure; internal adjustment with "High-Low" reference scale.

1.5" flush mount, welded 316L stainless steel diaphragm and pressure connection.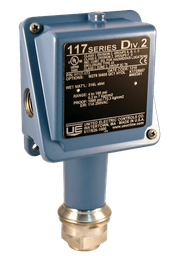 117 Series Pressure Switch (H117 Models 565-567 )
$ 

570.00

$ 

570.00
1.00

 USD